Craig Radio ad from 1979
Featuring the DeLorean Prototype, this is an ad for the Craig radio system that was to be used in the production car. Kind of ironic today. . .Updated text might now read, "What sort of stereo would not come in a car like this"


It's one of the most advanced music
And with Craig's exclusive Power-
play you get three times the power of
ordinary car stereos. So you get a rich,
deep sound they simply can't give you.
Unfortunately, the DeLorean sports
car isn't available yet. But the sound
systems in the world.
The receiver was designed from
scratch for the special needs of a
moving car. Even its specs were
totally redesigned for mobile use.
The reception out on the road is

where it counts.
It's called an R3 Road-Rated Receiver.
This receiver not only pulls in stations,
it holds them, even very weak stations,
even in bad areas. And it does so with
amazing fidelity.
Its digital station readout becomes a
digital clock when the radio is off.

system is at your Craig dealer's now.

Craig's new Road-Rated Receivers
are designed to fit virtually anything

you can drive.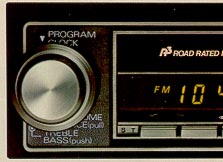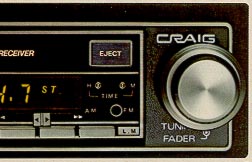 For more information write: Craig Corporation, Dept. RL 921 W. Artesia Blvd., Compton, CA 90220. In Canada: Withers, Evans Ltd., BC.
This page last modified on Tuesday, April 08, 2008